The latest issue of Forbes is now available for sale. The 6.2022 edition includes an article about IT solutions designed for all industries and facts about data, called oil of the 21st century. Wojciech Wencel – CEO of summ-it spoke about experiences and plans related to the data.
Forbes 6/2022
Forbes (Poland) is the national edition of the international biweekly Forbes. Is an economic monthly published in Poland by Ringier Axel Springer Polska. It describes the most important economic events in the country and in the world, as well as business strategies, addressed mainly to middle and senior managers and businessmen. It is a magazine for active people open to global trends and investors looking for extraordinary opportunities to multiply capital using non-standard investment strategies.
The latest June issue of Forbes magazine is available for sale from May 26, 2022. In a special section of the Polish Agency for Entrepreneurship, there is an article about the summ-it® experience gathered during 11 years of existence on the market. Wojciech Wencel – CEO and founder – answered the questions.
,,Data is collected by every business, and their amount depends on the level of development of the organization. At summ-it®, we provide solutions for companies from various sectors, operating globally"

Wojciech Wencel – CEO & Founder summ-it
The article mentions IT solutions available to every organization that can improve almost every area of ​​the company's operations. The basis is to be found in the data that are increasingly referred to as oil of the 21st century.
You can read the article in PDF. The entire June issue of the magazine is available only to subscribers on the official Forbes website and available for purchase in stores.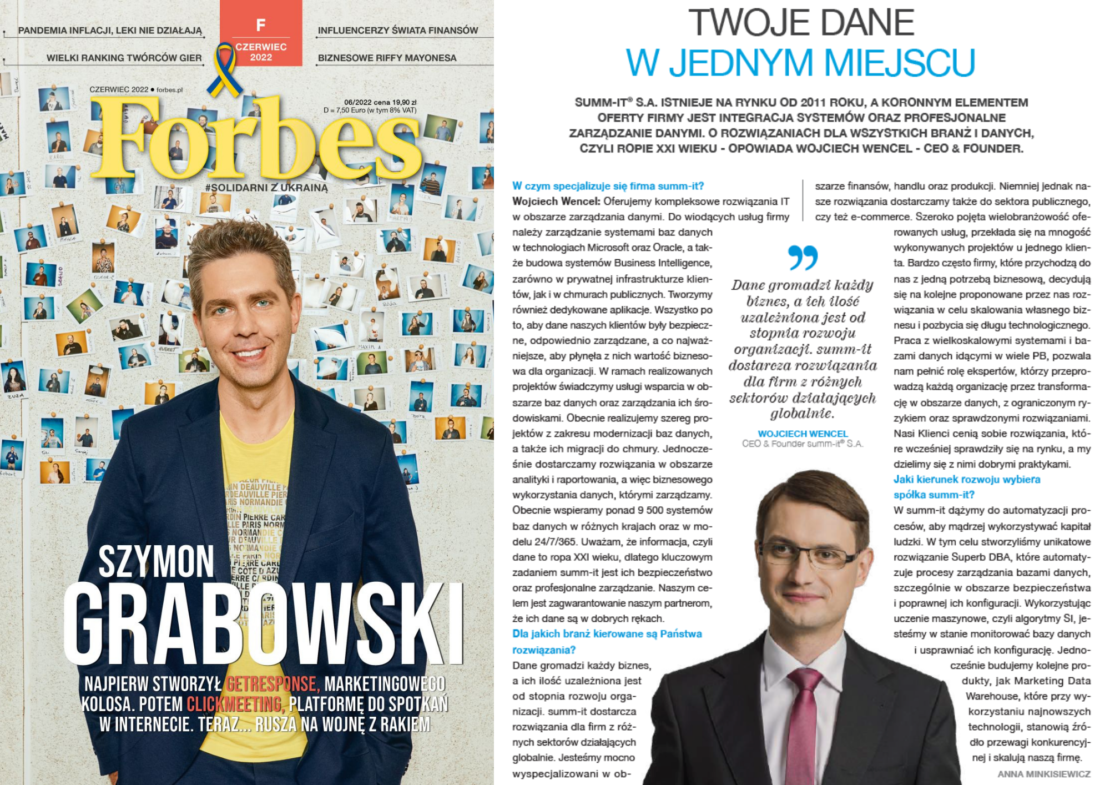 Do you have any questions or are you looking for the perfect solution for your company?
Schedule a free consultation. Consult your company needs with our experts. Learn about solutions that will help your company improve business processes and ensure data security.