Google Cloud
With the popularity of cloud solutions, it should come as no surprise to anyone, that all the major players in the technology market are offering their own versions of such platforms. Google has named its product Google Cloud Platform. It is a platform that enables the use of Google's reliable and scalable infrastructure, ranked among the market leaders. Find out more about its specifics, capabilities, and application.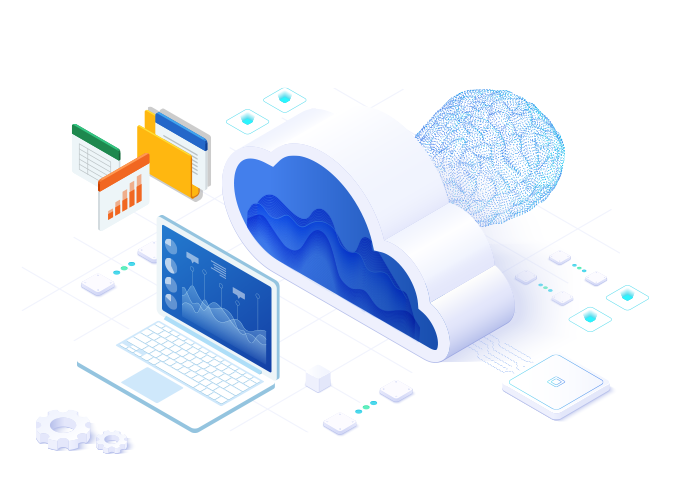 What is Google Cloud Platform?
Google Cloud Platform is a platform that offers a range of cloud-based tools. It runs on the same infrastructure that Google uses internally for products such as Google Search, Gmail, Google Drive, or YouTube. The user gets access not only to server space in the cloud, but also to tools and services to build their own tailored to their needs infrastructure. The whole system is extremely flexible and scalable – allowing you to use only the resources you actually need and allowing you to easily expand or reduce your infrastructure.
Ensure your business grows quickly and securely with access to nearly 200 services with ready-to-use cloud solutions. Benefit from the ability to create, test, and deploy your own applications on Google's scaled and reliable infrastructure. Act faster than your competitors, make the right business decisions, and collaborate with people without limits.

Google Cloud Platform services enable, among other things, computing power, storage space, data analytics, machine learning-based functions and much more. The platform operates in an IaaS (Infrastructure as a Service) and PaaS (Platform as a Service) model. It also allows the serverless computing environment usage. High-tech solutions facilitate the growth of businesses worldwide from a variety of industries.
How can Google Cloud be used?
The cloud from Google, thanks to its numerous tools and functions, offers a very wide range of possibilities for use. It supports the development of a variety of products and initiatives, enabling it to realise its full potential. Among the opportunities the GCP provides are:
files, objects, and content storage in a secure and scalable way,
multiple types of databases creation and usage,
Real-time data processing, analysis, and synchronisation (including Big Data analysis),
new functionalities implementation and modification of existing ones, without the need for major changes on the server side,
networks creation and management,
process monitoring,
AI (artificial intelligence) based solutions usage,
solutions based on machine learning usage,
IoT (Internet of Things) solutions implementation and usage,
migrations between solutions and much more.
It is no surprise that a number of established brands are developing their services with Google Cloud. Well-known users of the platform include for example Spotify, PayPal, Revolut, Twitter, and Burger King. Proof of how effectively it can support organisational development is provided by Google's own products.
Google Cloud – for whom?
Who is Google Cloud for? In principle, this solution can be used by any company that is ready to streamline its operations and modernise its processes. The platform is fully scalable, making it ideal for supporting growth. It is also tailored to the needs of both large and small organisations. The solutions proposed by Google Cloud Platform work well for operations within a variety of industries, providing, among other things, increased productivity, reduced costs and the highest levels of security.
Google Cloud together with summ-it – what do you gain?
What are the benefits for users of using Google Cloud? Access to a range of advanced tools, streamlines business operations, and enables digital growth. The advantages of Google's solution certainly include:
flexibility and versatility – the ability to adapt the tool to the individual needs of the organisation;
Accessibility – GCP, like other Google services, is available virtually worldwide; the tech giant has 30 data regions spread across the globe that are connected by a mesh of fibre-optic cables; this makes it possible to deploy resources wherever they are needed;
scalability – consumption levels adapt to load levels, while services can be both expanded in this respect or reduced;
Opportunity to reduce costs – using Google Cloud Platform eliminates the cost of purchasing and maintaining infrastructure, allowing you to benefit from extensive resources;
stability and reliability – the platform guarantees operation high stability and is virtually failure-free, with any problems resolved in a flash;
security – the Google team also naturally takes the utmost care to ensure the highest security of any data transferred, using multi-layered security, and control procedures.
Develop and build your applications, make the right decisions, protect critical data and modernise your team's collaboration with Google Cloud Platform, and support from summ-it specialists.
250
implementations of database systems
50
technological certificates
summ-it has been on the market since 2011, supporting almost 10,000 databases in a 24/7/365 model for companies from all over the world in various business areas. We hold over 50 technology certifications, delivering services based on ITIL® best practices and PMI®, PMBoK® project management methodologies. We have acquired ISO 27001 and ISO 9001 certifications confirming that data quality and security is a priority for us.
We have long-term experience working with cloud solutions in various scenarios. We use proven practices, including the Cloud Adoption Framework, aligning business and technology strategy with your organisation. We provide comprehensive IT solutions and assistance at every stage of the project. Throughout the process, we pay particular attention to security, ensuring that your data is in good hands.
Thanks to Google Cloud, you can not only streamline your business, but actually transform it completely. It is a great partner for digital transformation and development. Are you interested in implementing this solution? Rely on the summ-it experts support and make the most of Google Cloud!