We are a team of professionals
All activities in our company are guided by three golden rules, which combine the individuality of each of us with the professionalism needed in teamwork to make cooperation run as best as humanly possible. We are aware that every person is different, but it is crucial for us to create a team that can identify with the values set by us.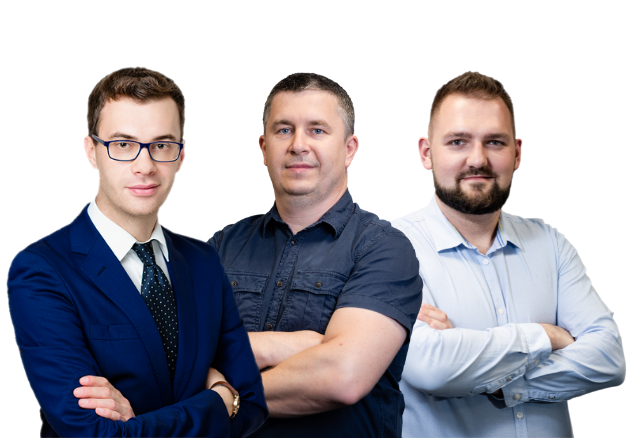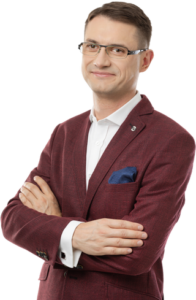 Wojciech Wencel

CEO & Founder summ-it
He gained his professional experience in international companies. He held, among others, the functions of Service and Project Manager. He managed the change and implementation of innovative solutions in the IT area. In his career, he was responsible for implementing solutions for organizations from the manufacturing, banking, retail and public sectors. He managed the service of 9500 databases scattered around the world.
A PhD student at the Poznan University of Technology, he studies the area of autonomous databases.
A graduate of Executive MBA Aalto studies in Helsinki, and Project Management Studies at the University of Economics and Technology at the Poznan University of Technology.
For Wojciech, nothing is impossible and he willingly takes up even those challenges that seemingly seem impossible to achieve. At work, he always gives 100%.
Our employees take part in various industry conferences and events on broadly understood topics, as well as constantly improve their skills thanks to various types of training and workshops. Thanks to this, we have a highly qualified and skilled team with numerous certificates.
Marcin Okraska
Since December 2021, he has been appointed to summ-it inc's Supervisory Board. He is responsible for co-creating the business strategy and its implementation.
Experienced IT leader in managing fast-growing organizations. He gained business competence in the commercial industry in companies such as Ahold Delhaize and PEPCO, where he built IT from scratch. He has extensive technical and specialist knowledge in the databases and Business Intelligence field.
Currently, he deals with investments and consulting. Passionate about management and digital transformation sciences. He is a graduate of the Executive MBA of Nottingham Trent University and the Information Management Systems field of AGH University of Science and Technology in Krakow.
Specializations: strategic management, building and development of organizations, IT strategy and management, process management, digital transformation, data management.
Krzysztof Masłowski
Associated with summ-it since 2020. He provides marketing support in the company. Since December 2021, he has been appointed a member of the Supervisory Board, taking responsibility for the marketing strategy, its implementation and data optimization.
He gained his professional experience as a New Business Manager at Kompan company, which was one of the first to sell Google products on the Polish market. He has extensive knowledge in the advertising activities optimization field in Google Ads and Programmatic.
Co-founer of Verseo SEO/SEM agency, a Google strategic partner, managing clients' budget exceeding PLN 100 million per year. Expert of Machine Learning and business consulting for companies usage. Certified Google AdWords Trainer. A graduate of EU Production Management and Engineering in Poznań.
Specializations: Search Engine Optimization (SEO), Search Engine Marketing (SEM), Growth Marketing, Strategic Planning, Strategic Marketing, E-commerce, Google Analytics, Programmatic, Management, Machine Learning, Artificial Intelligence in Marketing, Customer Service.
Magdalena Wencel
She has been an HR Business Partner at summ-it since 2016. Since December 2021, she has been appointed as a Member of the Supervisory Board in the creating HR culture and processes fields.
An experienced HR department leader, always associated with human capital. She shared her specialist knowledge as a lecturer at WSB in Poznań in the talent management and competence assessments field. Professional experience gained as a HR specialist at the MAN Accounting Center and as a head of the personnel department at ZKZL.
Since 2021, she has been an HR business partner at Raben Group. Master of Human Resources Management at the EU in Poznan. Completed postgraduate studies in the Project Management field, and in the Negotiation and Mediation in Business area. Certified Assessor and Mediator.
Specializations: employee training, mentoring, training processes creation, team work coordination, employee assessments, leading HR projects, indicators creation in the HR area, Assessment Center, Development Center, Lean HR.
Wojciech Hoffmann
Since December 2021, he has been appointed to summ-it inc's Supervisory Board, responsible for the area of strategic development and sales in the organization.
He gained many years of business experience in management positions in companies such as Intermarche, Castorama Polska or Epicentr in Kiev. He also ran his own business, providing consulting services on an international scale. Since 2011, he has been the President of the Management Board of Lentex Inc.
He has experience in performing functions in Supervisory Boards. A graduate of the Institute of Romance Philology of the Adam Mickiewicz University in Poznań and numerously certified in the management, sales, and communication fields.
Specializations: sales, consulting in the financial area, trade, consulting, strategic management, organization development, communication.
Here we are!