Data reporting
Data is not everything. Only their presentation brings real value. Using tools in Microsoft technology, including Power BI and Reporting Services, we offer our clients online reporting with simultaneous autonomy in the development of their own reports. We offer data acquisition and visualization in real time or with minimal delays resulting from the limitations of a given database system or data warehouse. Thanks to many implementations and experience in the implementation of proprietary solutions, we can carry out any task in the field of data reporting for you.
At summ-it, pay particular attention to the fact that data collection primarily serves the end user. Your comfort in reading data is particularly important to us.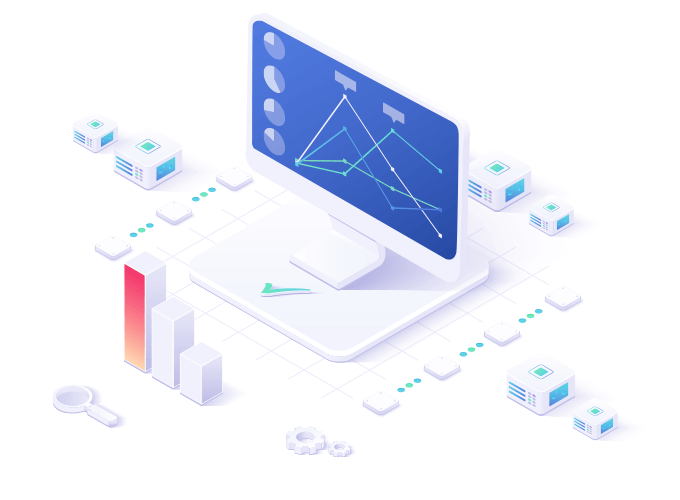 One consistent data source
Real-time online reporting
When should you think about data reporting?
Do you expect quick data reporting via the management dashboard? Do you want tailored solutions that will help you make the best decisions? Or maybe you want to report in detail on the course of processes in your organization? All this, headed by identifying the strengths and weaknesses of the enterprise, offers data reporting designed by summ-it!
Your company should invest in reporting when:
it wants to unify the data provided within the company,
it wants to better understand the processes behind the information acquisition,
it wants to gain better insight into the data,
it wants to expand the work on hard data in particular organization departments,
it wants to make faster and more effective business decisions.
Why is it worth entrusting us with the issue of data reporting?
With us you will gain quick access to data related to your marketing, sales, production or distribution. The ability to view and create flexible reports will give you a competitive edge and allow you to see and respond faster to potential business threats. We can integrate your data reports with any storage environment, as well as connect them with various sources of their acquisition.

+250
database systems implementations
+50
certified IT specialists
What do you gain by investing in data reporting?
raportowanie danych?
Better understanding of the organization processes state
Knowledge regarding the state of developed goals for employees
Fast and transparent access to data
Quick business hypotheses verification
Microsoft Power BI
The Microsoft Power BI solution was created to meet business needs related to reporting. In this area, you can distinguish corporate, ad-hoc and built in the Internet reporting.
These reporting mechanisms enable organizations to provide relevant information across the corporation – exactly where it is needed.
Power BI services offer the tools and features you need to create a variety of richly formatted reports using a wide range of data sources, and provide a comprehensive set of familiar tools to manage and secure enterprise reporting solutions.
The idea of implementing a reporting system is to process and deliver data quickly and efficiently. This allows users to download reports automatically by using subscriptions, as well as by ad-hoc access to reports in a central report repository, or by using reports in the context of business processes using reports directly built-in business applications or Web pages.
Although companies often collect and store large amounts of data, it is sometimes difficult to present this data in a clear way so as to provide insight into the current business processes state and help decision-makers.
A well-designed reporting system allows access to data at various levels. Thanks to this, effective business decisions can be made at all levels. On the other hand, easy access to data allows you to combine information from many data sources used throughout the organization.
Reports allow for the integration of text and digital data, as well as their visualization using numerous charts and indicators that effectively visualize trends.
The Power BI platform provides companies with the ability to implement various reporting scenarios types:
Management reporting. Often also called corporate reporting or managerial dashboards – it supports the reports creation, which cover all aspects of business activity. These reports are delivered throughout the company so that each employee has access in real time to information consistent with his or her responsibilities and can make more accurate decisions based on them.
Ad-hoc reporting. It allows users to create their own reports in real time, with flexibility assurance in the fast information acquisition field, which they need and the desired format – without the necessity to send a request and wait for the report designer to create a visualization for them.
Built-in reporting. It enables organizations to build reports directly into business applications and web portals so that users can use the reports in the context of their own business process. Furthermore, Microsoft Power BI allows for deep integration with Microsoft Office SharePoint Server technology. This enables organizations to deliver reports through a central report library or use new Web Part elements to render simple reports directly in a SharePoint environment.
In this way, organizations gain the ability to bring key business data from the entire organization to one central location. Thanks to this, the access acquisition process is unified, and users can immediately analyse key information regarding business performance.
Meet clients with whom we reach the peak together

At the client's request, we implemented management dashboards and operational reports that allow not only decision-making but also the execution of business processes.