Custom Application Development
The technological solutions available on the market do not fully meet your organization needs? Do you need a solution with specific capabilities and functions? Get expert support.
We will create and implement a dedicated solution for you that will help you improve your work and solve existing problems. We will help you to complete tasks that until now seemed impossible and manage your data with maximum efficiency. Check our offer's details.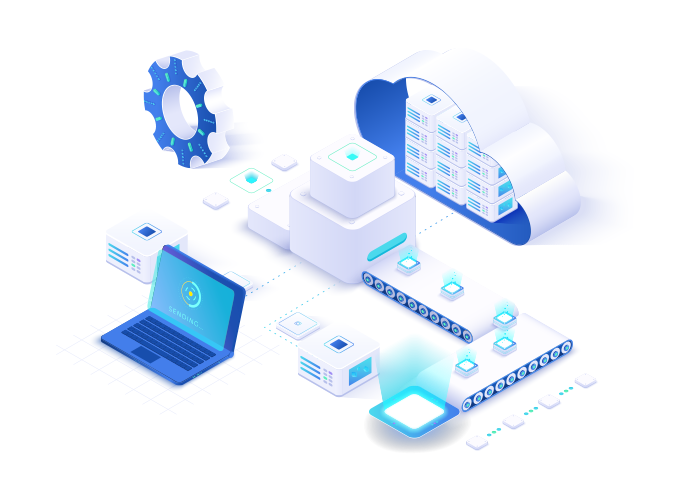 Dedicated Data Integration System
Data integration systems are software responsible for their collection, processing, and information transformation. There are many solutions available on the market, but we are not always able to choose the one that meets all the organization needs and expectations. Then the optimal solution is to use a dedicated application, fully adapted to our requirements.
It is a system tailored to the specific needs and specific requirements of the user, created by experienced programmers. Services in the dedicated data systems field include their creation, implementation, and integration – thanks to this, the transition process to the new system is smooth and trouble-free, and the current tasks implementation does not have to be associated with downtime.
Dedicated software may rely on creating a completely new application or configuring ready-made software, implementing non-standard modules, or creating individual interfaces. The service may also include building integration between ready-made solutions – depending on individual needs.
Why is it worth using dedicated data integration applications?
Dedicated software is recommended primarily to organizations that need a functions range that goes beyond the commonly available systems capabilities. It is a solution created specifically for the given enterprise needs. As a result, it provides maximum functionality and flexibility, which translates into productivity and the available resources optimal usage possibility.
The most important advantage of dedicated software is the complete fulfilment of the user's expectations. As a result, these system types allow:
process optimization,
increasing productivity,
easier and faster decision making,
software development in accordance with the organization needs,
individually designed protection against external threats,
comprehensive data management,
integration with other programs,
assigning an unlimited user quantity.
A properly developed application is a huge advantage for the organization, and often also a way to develop a competitive advantage. Thanks to this solution type, work becomes more comfortable and efficient.
Dedicated data integration systems – what do we offer?
The summ-it offer includes comprehensive services in the dedicated data integration systems field. We offer:
software enabling proper collection preparation,data processing and transformation for business use;
dedicated data integration systems implementation created in accordance with the client's requirements and guidelines;
carrying out integration, i.e. data exchange between systems along with flow monitoring;
secure and fully scalable systems implementation both in private customer infrastructure and in public clouds.
Tell us what you expect and we will create the perfect solution for your organization. A wide range of knowledge and experience allows us to map our clients' needs in the form of tailor-made, convenient, and fully safe applications. We provide comprehensive service and technical support also at the stage of using dedicated software.
Custom Application Development – why summ-it?
Functional, safe and effective data management is one of the greatest challenges facing modern enterprises today. Without appropriate IT solutions, it is impossible to achieve the necessary goals. Dedicated software created exclusively for your organization's needs will help to streamline work and improve faulty processes. It is important to entrust this task to an experienced team. It is important to be able to take advantage of comprehensive services when implementing and using the software.
By choosing the summ-it's offer, you choose comprehensiveness and full professionalism. We will prepare integration for you, i.e. data exchange between systems, and provide flow monitoring so that your business does not experience downtime.
The knowledge of our consultants is confirmed by the certificates of competence:
        Microsoft Azure Advanced Specialization in the Modernization of Web Applications category
        Azure Solutions Architect
        Microsoft Certified IT Professional
        Microsoft Certified Trainer
        Oracle Certified Professional
We provide services based on the best ITIL® practices and the PMI® and PMBoK® project management methodology. In both cases, our employees are certified.
Meet the clients who trusted us:
Żabka – Proxy application for order fulfilment from all stores in the Azure cloud,
Koral – web and mobile application for partners ordering products,
Animex – a system that allows the company's business processes implementation,
Marmite – software supporting production processes,
Verseo – Tasty Task is a SaaS system for task management, Grader – automatic campaign performance reports, Verseo Campaign Manager tool (VCM) – a platform for campaign optimization and automation
Artgeist – GUI for a data warehouse system, providing write back functionality,
Aid-life – a mobile file for storing medical data