Analytics and data management
Data is one of the company's most important resources. Carefully developed analytics and management systems are needed to use and protect them properly. Today, many advanced tools are available to help meet various objectives and increase a company's competitiveness. The summ-it offer includes comprehensive assistance in the implementation, selection, and operation from the best suppliers on the market.
Take control of your data and increase its security. Optimise processes, make the right decisions and increase your organisation's relevance in the market – we are here to help you. With long-term experience certified by more than 50 technology certifications and Microsoft Azure Advanced Specialisation in analytics, we understand our clients' scenarios perfectly.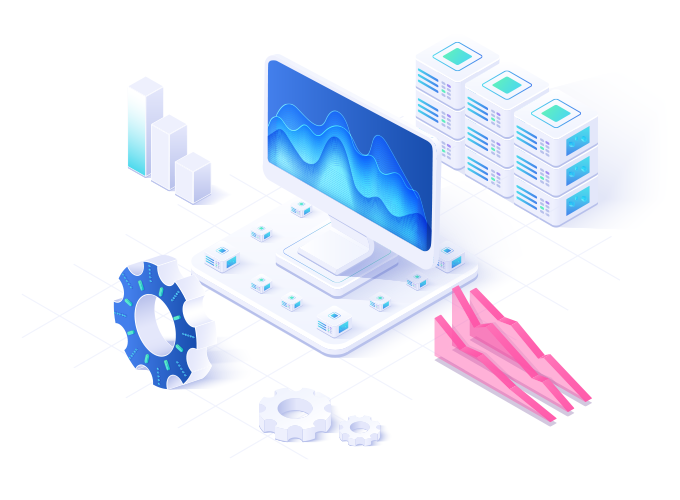 What are analytics and data management all about?
Analytics and data management systems are the answer to the needs of the modern world. Today, virtually every organisation has more or less digital data assets that need to be protected and organised. Instead, the appropriate held information usage helps to develop the company and create a competitive advantage. Various data management tools help with this.
Data collection alone is not enough. The effectiveness of the company depends largely on how they are used. Efficient and adapted to the information processed volume, the system provides tremendous support for, among others:
identification of problems arising in connection with business activities,
automation of certain processes,
streamlining decision-making procedures,
data analytics to make sound business decisions,
building a competitive advantage in the market,
increasing customer satisfaction,
cost optimisation,
identifying and reaching out to new recipients.
Investing in analytics and data management is harnessing innovative solutions that cannot be missed in today's organisations. By working with summ-it, you will get a flexible and comprehensive services thanks to which you will get your organisation to the next level. We will respond to your current and future data management needs.
Analytics and data management – what do we offer?
Looking for a way to streamline your business operations? Do you need a solution that will help you make use of the information you have acquired and bring the chaos of acquiring more and more data under control? Take advantage of analytics and data management services and join modern companies with knowledge-based solutions. We offer services related to the selection, implementation, and operation of analytics and data management tools, as well as audit services. The scope of our support is flexible and tailored to the client's needs.
We deal with, among other things:
Business Analytics:

advising on the possibilities offered by the datasets held,
data visualisation,
solving data analysis problems,
implementing solutions to realise business analytics and data reporting;

Business Intelligence Systems (Microsoft Power BI):

selecting appropriate Business Intelligence solutions,
full implementation of BI systems,
data sources integration,
employee onboarding,
system support;

Data Warehousing:

on-premises and public cloud data warehouse implementation,
data warehouse construction, taking into account the intended use, the volume and nature of the data held or the type of transformation required, and the frequency of data refreshment,
data warehouse solutions implementation,
data warehouse servicing;

Data as a Service (DaaS):

advice on choosing the optimal platform,
DaaS services registration and activation,
databases migration with a particular focus on security,
employee onboarding;

Data Reporting:

online reporting using Power BI and Reporting Services,
real-time data acquisition and visualisation,
integration of data reports with any storage environment and different acquisition sources.
Benefit from long-term experience to see the results of your investments sooner. The data analysts at sum-it will help your company join the best!
Analytics and data management – why summ-it?
Analytics and data management is a field, in which there are no one-size-fits-all recipes. Solution's effectiveness depends on the right fit with the individual needs of the organisation. This is precisely why it is worth to benefit from summ-it's support. We provide flexible services proven by successful projects for globally operating companies from a variety of business sectors, including: finance, logistics, manufacturing, e-commerce, retail,or marketing.
We maintain almost 10,000 databases on a 24/7/365 model, so we know exactly how to work with data to benefit you. In our business analysis departments, we provide expert advice and assistance on any aspect, in which your organisation needs support.
By implementing systems in the analytics and data management field, we ensure the highest quality of service and guarantee security, as evidenced by the acquired ISO 27001 and ISO 9001 certifications.
We can help you achieve the results you expect and even discover the potential of your business data to give you a competitive advantage. We will take care of professional data management, ensuring the sustainability of your business. Apply proven procedures to achieve a return on your investment.