Microsoft 365
It is difficult to find a computer user who has never used programs such as Word or Excel. Microsoft's flagship products, once known as the Office Suite, today can be used as part of Microsoft 365 (formerly Office 365). It is a cloud solution that, apart from being modern and comfortable, also offers additional functions and amenities. Available online applications as part of the selected package create a comprehensive and integrated environment that helps companies and partners to cooperate, protect business, and reduce costs.
summ-it as a Microsoft Gold Partner effectively responds to customer needs by implementing the proven Microsoft 365 package in such a way as to ensure a strong and sustainable return on investment for each industry.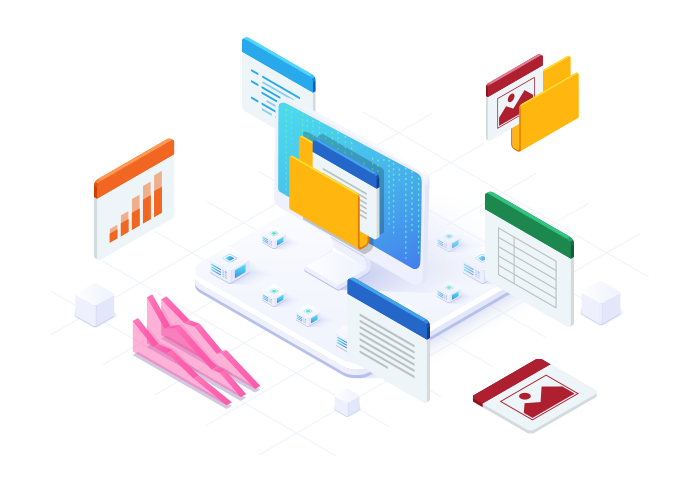 What is Microsoft 365?
Microsoft 365 is a proven, cost-effective, and reliable cloud solution for safe work from anywhere and real-time collaboration. The solution is referred to as a cloud office providing the Office application suite:
Microsoft Word,
Microsoft Excel,
Microsoft PowerPoint,
Microsoft Outlook,
Microsoft OneNote,
Microsoft SharePoint,
Microsoft Teams,
Microsoft OneDrive.
With Microsoft 365, they can be used not only from a computer, but also via mobile devices with Android or iOS. Thanks to this, the tool significantly increases the flexibility of work, also positively influencing the comfort and efficiency of the user.
M365 is a subscription service. The license is allocated to a specific user and not, as in the case of the classic Office, for a specific device. This means that any subscriber can use the package in any way. One person can install it on up to 5 computers, 5 phones and 5 tablets at the same time, and access to documents and data is practically unlimited, because it is possible via any device with Internet access.
Microsoft 365 for companies and enterprises – subscription variants
The Microsoft 365 package is a data exchange platform that guarantees the information transferred security. Supervised by an experienced team of specialists, it ensures that the data is available only to the user and persons indicated by him. At the same time, a professional platform guarantees the data availability at the highest level, thanks to a comprehensive IT environment.
M365 offers access for both companies and enterprises. Each of these groups has different subscription options to choose from. Thanks to this, it is possible to adjust the service to the individual needs of the user.
Microsoft 365 for companies means efficient work from anywhere in the world, business data protection thanks to dedicated security and costs reduction through the proper configuration of IT resources.
subscription for Microsoft 365 Applications for Business – including classic versions of Office applications (Word, Excel, PowerPoint, Outlook, OneDrive, and Access and Publisher for PCs) with premium features and 1 TB of cloud disk space;
Microsoft 365 Business Basic subscription – including Word, Excel, PowerPoint, Teams, Outlook, Exchange, OneDrive and SharePoint in the web and mobile version, and 1 TB of cloud storage;
Microsoft 365 Business Standard subscription – this is a Business Basic plan extended with classic versions of Office applications with premium features, including Access and Publisher for PCs;
Microsoft 365 Business Premium subscription – it is an extension of the Business Standard plan with Intune and Azure Information Protection applications, ensuring increased control and security.
The Microsoft 365 platform for enterprises is the highest level work for a global team using a highly advanced environment based on innovation. The variety of packages allows you to adjust the service to the needs of the company within three subscription levels.
Microsoft 365 E3 – Combine office applications with essential security and compliance features
Microsoft 365 E5 – extension of E3 with advanced security, compliance, voice conferencing, and advanced analytics tools
Microsoft 365 F3 – designed to extend the possibilities of first contact employees thanks to the automation of workflows.
Microsoft Intune
Microsoft Intune service available in the Microsoft 365 Business Premium subscription. It is a cloud-based tool that allows you to remotely manage mobile devices and mobile applications. The tool allows the administrator to manage access to the system, centrally control user data, and effectively regulate access to programs. It allows company devices usage full control (phones, tablets, laptops) and imposing a security policy on applications installed on them that have access to sensitive data. As a result, it allows you to increase productivity and flexibility, while protecting corporate data.
Microsoft SharePoint
SharePoint application available in Microsoft 365 Basic, Standard and Premium subscriptions is a multitasking platform for group work, extremely useful in modern enterprises. A place created to manage documentation in the company and improve the data flow processes between employees. SharePoint can act as a safe place to store, organize and share information and access the collected data from any device. The platform is most often used as an intranet or as a secure social networking tool within an organization. It works perfectly, among others when creating websites.
What are the benefits of Microsoft 365 with summ-it?
Microsoft 365 is a response to contemporary market challenges. Companies see the need to focus on digital strategies to increase their actions flexibility. It is vital for business to stay safe in the face of the increasing number of hacker attacks. In recent years, the need to ensure financial stability based on proven tools has increased.
M365:
better data protection – advanced security and automatic files backup to a cloud disk (OneDrive);
improvement of cooperation – easy co-creation of documents, access to files, creating backups;
greater flexibility and mobility – the ability to perform the same tasks using different devices from multiple locations and seamlessly switch between devices;
increased productivity – thanks to machine learning functions;
data protection compliance – and the ability to identify security gaps.
Cost saving areas:
supplier licenses consolidation
risk reduction
savings in administration and implementation
physical costs reduction thanks to remote work
processes automation and improvement
cash flow optimization
250
implementations of database systems
50
technological certificates
Meet the clients with whom we reach the summits together

summ-it ensured the digital transformation of Żabka's work processes by implementing Microsoft SharePoint, part of Microsoft 365. We have adapted application standard functions to meet the unique needs of the client. Żabka gained the ability to use the Microsoft Azure App Service web hosting service, significantly increasing its flexibility. We introduced Azure SQL Database to optimize system performance and enable greater scalability. All stored data is visualized using Power BI analysis.