Cloud Solutions
One of the most important indicators of a company's modernity is the technologies used. For several years now, cloud solutions have been at the forefront of this, and can be a catalyst for an organisation's growth. They offer a wide range of possibilities, are flexible and secure, while providing numerous benefits, one of the most important of which is the ability to reduce costs and streamline procedures.
Implementing cloud solutions will help your company to step up to the next level of digitalisation and build a competitive advantage. It is the best to benefit from the experts help in this regard. summ-it obtained Microsoft Azure Advanced Specialization in the area of migration. This designation identifies our broad technical capabilities and help us select the right cloud solutions and then implement them – so that they streamline the organisation's operations.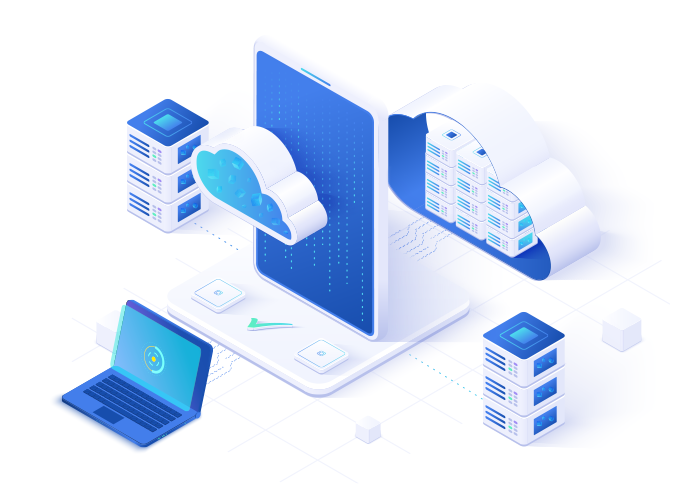 What are cloud solutions?
Under the term 'cloud' is meant a piece of virtual storage space, computing power, a development environment or a ready application. Cloud solutions are modern services that allow you to use these functionalities without having to purchase and install software or invest in your own servers. The Cloud infrastructure service lies with the provider and the customer only pays for the resources used. Consequently, such a solution has many advantages.
By investing in cloud solutions you can:
reduce the organisation's operating costs,
adapt computing power to current needs and flexibly combine resources,
access the necessary tools, applications and functions from anywhere in the world and collaborate on shared files (support for remote working),
standardise and streamline operating processes.
With professional support from summ-it specialists, you will implement them efficiently and securely and your company will gain business scalability.
Cloud solutions – services offered by summ-it
Are you looking for help implementing cloud solutions tailored to your organisation's needs? Put your trust in proven experts. The summ-it team will provide you with comprehensive support in the form of an End-to-End service. We use proven practices, including the Cloud Adoption Framework, aligning business and technology strategy for success. We will identify solutions to give your company a competitive advantage. We will help you migrate to a cloud system and develop new operating procedures. We also offer audits, cloud solution scaling services and expert consultancy – everything you might need to streamline your business operations while ensuring costs are reduced with cloud solutions in place.
Our offer includes the following services:
cloud databases, including:

selecting the right cloud solution,
system implementation,
system maintenance;

cloud database services, including:

cloud design and implementation,
databases migration to the cloud,
ongoing support for the systems maintenance and development,
database scaling,
as well as consultations and audits;

migrations to the cloud, including:

data analysis,
pre-migration and conversion,
migrating and synchronising data,
performing tests, optimisation and corrective actions;

Managed Cloud Service solutions, including:

planning and setting up the cloud architecture,
business case, risk analysis and TCO preparation
systems migration,
public cloud security audit.
We provide access to a variety of solutions – public, private and hybrid cloud. This enables our customers to benefit from solutions tailored to their individual needs. We are a provider of the largest public cloud solutions, while also working with private cloud providers:
Microsoft Azure,
Google Cloud Platform,
Amazon Web Services,
Oracle Cloud,
MAIN Private Cloud
Want to find out more? We look forward to hearing from you!
Cloud solutions – why us?
Cloud solutions usage makes it easier to adapt the organisation to the changing needs of the market. They are flexible, safe and functional. However, it is very important that the cloud implementation process is carried out while maintaining highest standards. This is precisely why it is worth to benefit from summ-it's support. Our competence is confirmed by numerous certificates (e.g. Azure Solutions Architect, Microsoft Certified IT Professional, Microsoft Certified Trainer, Oracle Certified Professional) and feedback from satisfied customers.
We are a long-standing Oracle partner and hold Microsoft's highest partner qualification – Advanced Specialisation in Windows Server and SQL Server Migration to Azure.
We have extensive experience of working with cloud solutions – not only implementing them, but also operating, scaling, or troubleshooting them. Our long-term experience enables us to advise clients on the optimal solutions. The summ-it team's procedure is to accurately identify the client's needs and then propose appropriate solutions. We also provide comprehensive assistance with the cloud implementation, the development of new procedures and the maintenance and administration of the system. We take responsibility for security throughout the process, ensuring that your data is in good hands.
Start a new phase in the development of your business and develop a competitive advantage. Contact summ-it to explore new possibilities.
250
implementations of database systems
50
technological certificates